Shaker Boxes & Accents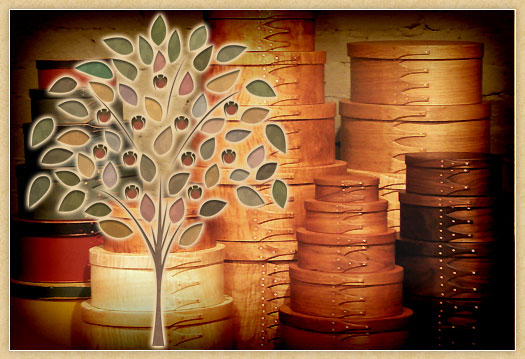 As I recall, I created my first set of Shaker boxes the summer of 2001, a few days prior to a large fork art festival. I made the boxes not because I had seeds to store or because I needed another weekend project. What I desperately needed was a folk art small that I could take to shows, something special that transcended the lines of decor from colonial to contemporary. The first box I put out sold in 15 minutes to a very happy customer. Thanks to other wonderful customers, I now produce hundreds of these boxes each year.
The methodical steps of boxmaking is my work therapy. Boxmaking allows me to complete a project quickly, a much needed diversion from the weeks of problem solving labor invested in a large piece of furniture.

My approach to creating Shaker boxes is a bit different than many of my boxmaking counterparts. I have been a furniture builder since 1978 and I am used to handling raw lumber in all the American species, therefore when creating Shaker boxes, I do not order my veneers from a supply company. I take raw lumber and re-saw my own veneers to produce the parts I need to make my boxes. This method of work is labor intensive but it gives me the freedom to offer my personal line of wooden Shaker boxes.
The Shakers very often mixed painted wood and natural grain wood to create a piece of furniture with contrasting parts. The Shaker box presents an opportunity to highlight colors and wood grains that, if featured on a large piece of furniture, might be quite gawdy. A splash of that same color or wood grain can, however, be stunning.
Please enjoy looking at my Shaker boxes and, of course, feel free to contact me with any questions you might have.
- John Bachman